What's new at Sun Country Bretons?
Gypsy and Josie place second in field trials
(August 14, 2016) - At the Arizona Pointing Dog Club August field trials held near Flagstaff over the weekend, Gypsy placed second in the Gun Dog class on Saturday and Josie placed fourth in the Shooter class. The next day, Josie placed second in her class, but Gypsy had an "off" day. Tess also got to run, but at age 12, she couldn't keep up with the youngsters.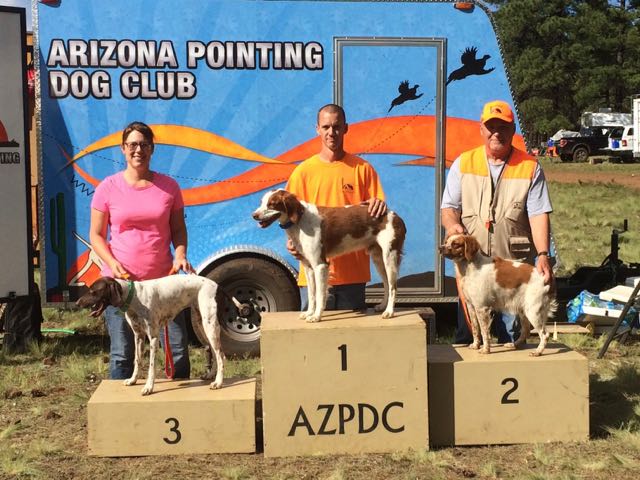 Josie earns fifth pass toward Master Hunter title
(August 21, 2016) - Josie completed one more step toward her AKC Master Hunter title in August. She scored nine out of ten in hunting, bird finding, pointing, trainability and retrieving, and scored seven for honoring. She needs just one more pass for her title.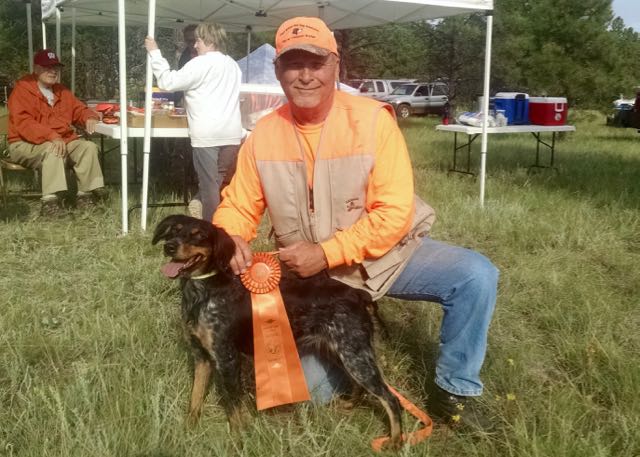 Josie delivers!
(Nov. 5, 2016) - Josie delivered four boys and two girls on Saturday, a couple days before we expected them. They were definitely ready to enter the world. The first puppy arrived around noon before we knew Josie was in labor. She has two orange and white pups, a male and a female; three tricolors, one female and two males; and one black and white male.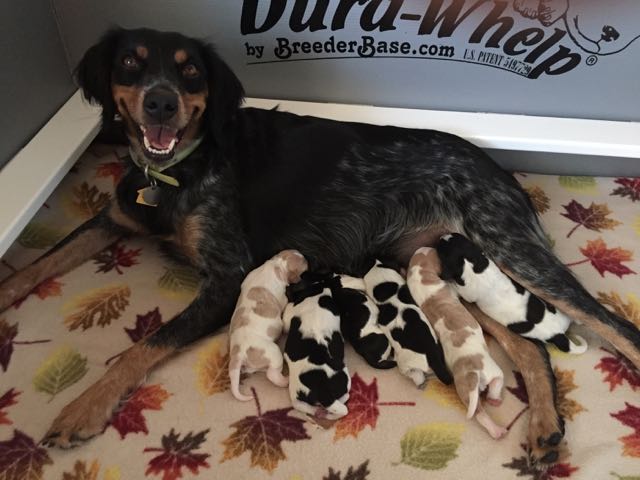 Update! Nellie earns two more passes!
(December 11, 2016) - Nellie wasn't able to complete her MH title this weekend, but did pass two more tests. Just one more to go! She's a winner!
Nellie scores high at her first AKC Master Hunter tests!
(November 20, 2016) - Nellie demonstrated the results of her training over the last year, taking advantage of her first opportunity to run in an AKC sponsored hunt test weekend. Although she made a mistake at her first attempt and failed her first test, she quickly caught on to the task and easily passed the next three. At barely two and a half years old, she performed better than many dogs twice her age. We're very proud of her!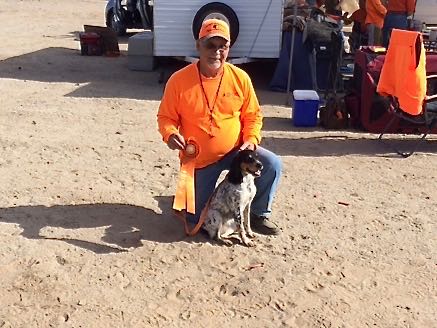 Cory Awarded Best of Breed at Regional Specialty Show
(Jan. 6, 2017) - Don took Cory, Josie and Nellie to the Chisholm Trail EB Gun Dog Club Specialty Show and Cumberland Mountain EB Gun Dog Club Field Trials January 6 - 8. Our dogs ran well in the field but didn't succeed in finding birds this time, but Corentin des Grands Lacs came home with several ribbons from the show, including the Best of Breed award. He was rated Excellent in the ring and complimented for his run in the field by French Judge Jean-François Maillet. He has been rated Excellent by four different judges at separate venues over the last seven years. Cory is as sweet and loving as he is handsome and we are very thankful for him.
Josie and Nellie were confirmed at the event and Josie was also shown in the ring and received a rating of Very Good. It was a very cold weekend and a long trip to Texas for Don, but he and the dogs had fun and we were pleased with the results.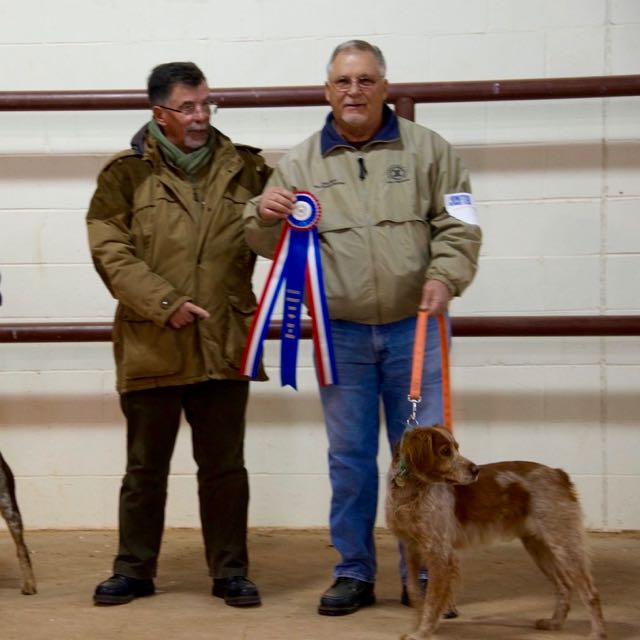 Introducing Nola de Pays du Soleil
(February 3, 2017) - Nola de Pays du Soleil entered the world on January 20th and was the only puppy delivered. We were disappointed that Nola doesn't have littermates, but are happy to report that she is now two weeks old, healthy and doing great. She is the daughter of AKC Master Hunters, Gypsy du Talon de Goudron and Corentin des Grands Lacs.
See photos...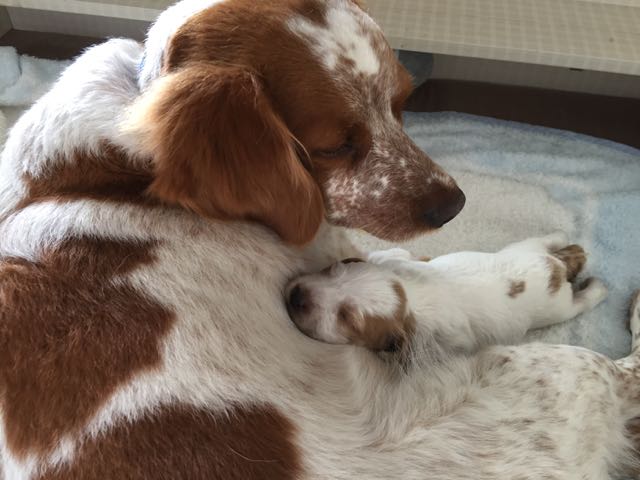 Nellie earns Master Hunter Title with perfect scores!
(February 11, 2017) - Nellie passed her final AKC Master Hunter test by scoring all 10s for hunting, bird finding, pointing, trainability, retrieving and honoring. She also gets a 10 for personality and lovability!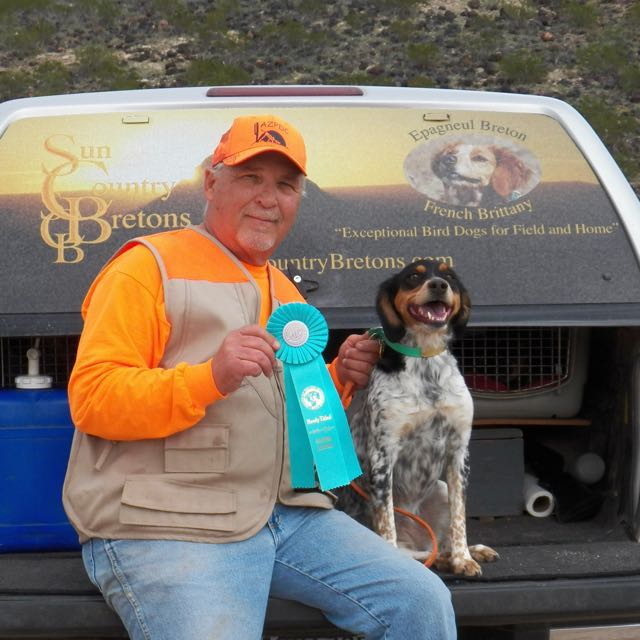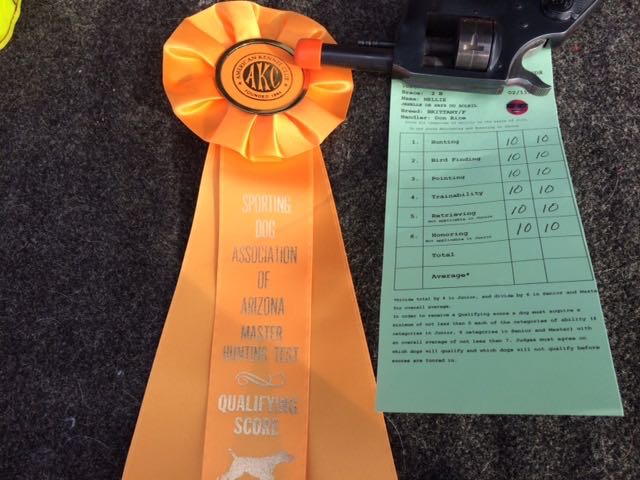 New puppies!
(May 20, 2017) - Nellie delivered seven beautiful puppies on Saturday afternoon, four males and three females. She has three black and white (one female, two males), two tricolor (one male and one female), and two orange and white (one male, one female). The puppies weighed between 10 3/4 oz. and 12 3/4 oz.. and all are gaining weight and doing well. Congratulations to Nellie on her first litter!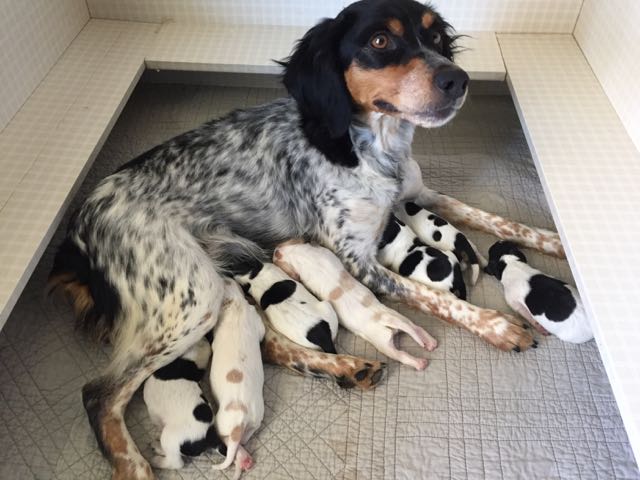 Iona de Pays du Soleil earns nose work award
(July 16, 2017) - Iona recently earned High in Trial award in the United States Canine Scent Sports Intermediate class. Iona is from Ellie and Cory's 2013 litter. The Epagneul Breton breed can excel in many canine sports and we're proud that Iona and her owner are proving their talents. Congratulations to Iona and Noah!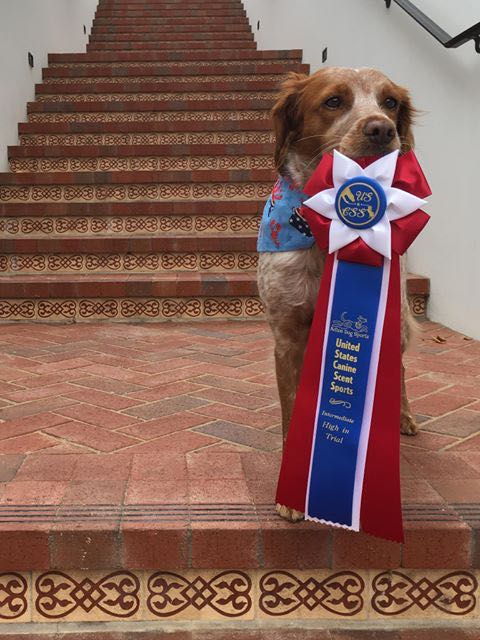 Newborns!
(Nov. 3, 2017) - Josie delivered four boys and one girl early Friday morning. She has two orange and white pups, a male and a female; two tricolor males and one black and white male. Puppies and Mom are doing great!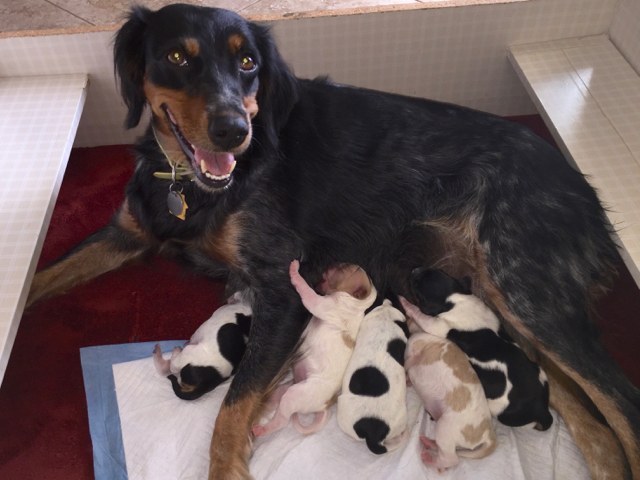 New addition!
(October 2017) - We're pleased to announce the newest member of our pack, "Ned." This handsome boy came to us from Lost Highways Kennel in North Carolina and he is a character! His pedigree includes his sire, Hutwagner's Atos who is a UKC field champion (CHF), show champion (CH), and has earned his TAN (test of natural ability), WRT (water retrieve test), and DS (dock senior); his dam GUN TopperLyn's Karma "Ella," and grandfathers CH Gatsby du Mas d'Eyraud CH A P TR IT, Recommended Sire, and National Best of Breed and Grand Champion Beau de L'Hospitalier TAN.
Welcome Ned!
Ned graduates puppy class
(Dec, 3, 2017) - Ned completed six weeks of puppy training where he learned Sit, Down, Stay, Walking on a Leash, Leave It, Drop It, and Shake Hands. He was the most popular student in the class and had a lot to say. Unfortunately, we didn't learn No Barking!