June 10, 2014 - I have two dogs from Sun Country Bretons, Gigi (2011) and Hooper (2012), both Titus & Rosie puppies. Gigi is as birdie as it gets but I made a lot of training mistakes ... Hooper has the same bird drive and character that she has ... On a hunting trip, I noticed Hooper was experiencing some anxiety when he would hear a gunshot. I called Don and he gave me some very good advice, "bring him to me, I can work him through it." For the next three months, Don worked with Hooper, he called me once a week to explain what the next step would be, the techniques achieving that goal for that week, last but not least how Hooper was responding to the training. When I went to pick Hooper up, Don made sure that I went to the training area and walked side by side with him as he put Hooper on birds. He was very helpful letting me know when I should correct and how I should do it. Hooper now is not gun shy at all, and has a lot of potential to be a very good hunter. Without Don's expertise I believe Hooper would never be the Gun Dog that he was bred to be. Thank you Don!
Dick B.
June 8, 2014 ­- Belle is a beauty, we are very pleased with her. Solid temperament and even obedient. Turns on a dime when I whistle. Her worst habit is actually charming and a good sign of things to come. ... Every single time she passes through the garage to go outside to the yard she MUST go over to the bench and pick up a shoe or boot to carry. Never mind that we always take it from her at the door, she is happy to give it to us. Funny!
Lynn Dee G.
Nov. 9, 2013 - Here's Kaydee (from Rosie/Titus 2012 litter). She's doing great pheasant hunting in Washington and is a great house pet. She made some really nice points today and limit of roosters and a few quail as bonus.
Dean W.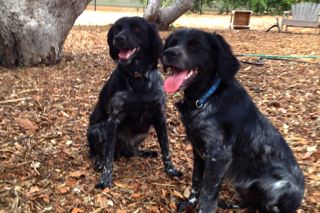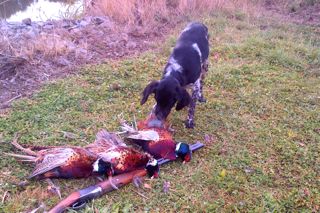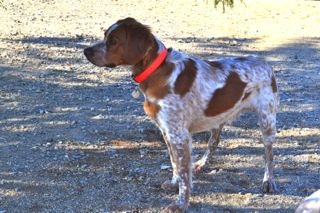 Feb. 10, 2014 ­- I just want to let you know how happy I am with Harley. You have done a great job training him! Hunting with Harley and Gunner is such a joy - they have so much fun together and Harley always has a big contagious smile. Your gentle training techniques have worked wonders - at 13 months Harley is solid and holding his own, while running with much older and more experienced dogs. My hunting buddies are constantly mistaking him for Gunner. I can't wait for trial season to start. Thanks again for another great pup!
Bob C.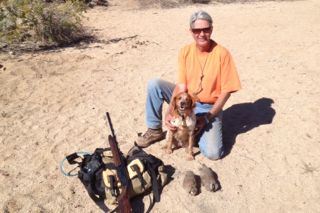 Jan. 3, 2014 - Hallie (Katie) is progressing nicely. Attached is a picture of us with chuckers from the East Mojave. She is so tiny (actually perfect sized that I have her wear a bell, so I can find her in heavy cover! She has great hunting drive, and an excellent nose, steady to point, and a "here" keeps her close and quartering. My hunting buddies have nicknamed her "the rocket." Most of all, I like her disposition... what a sweetheart. I am so happy to have one of your dogs.
Ross C.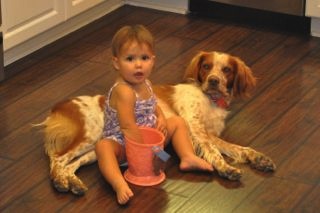 Aug. 2013 - Jack is really excelling (in the field) and having a blast doing it! As far as him and (our baby), they are just loving each other! They actually play together, where Jack play bows her with a toy in his mouth and then shakes it. Then she shakes her head and runs. He chases her being ever so careful to not run her down and to dodge her so he doesn't knock her over! It's really cute. Thanks again for an amazing dog and friend for us as well as our daughter!
Caroline Y.
Nov. 22, 2012 - Huck is a total gem and a cuddle bug. I could not have asked for a better pup. He listens and well, is just too cute for words, great expressions. He was well worth the wait. We are working in the field and he is a natural backer to Beaux, my dad's 7-year-old French Brit. He has a great nose on him as well.
Allie P.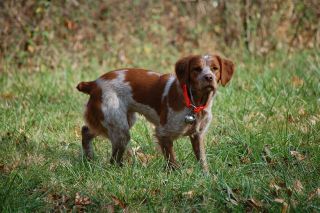 Oct. 2012 - Gunner took first place in the Arizona Pointing Dog Club championship last weekend! He competed against 26 other dogs over the year in his class and came out on top at the championship trial. I'm so proud of him! He is such a joy, always eager to please a a real sweetie around the house... Thanks again for a great pup!
Bob C.