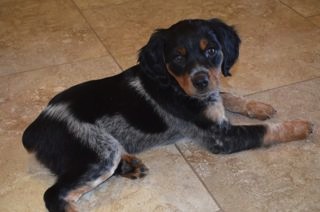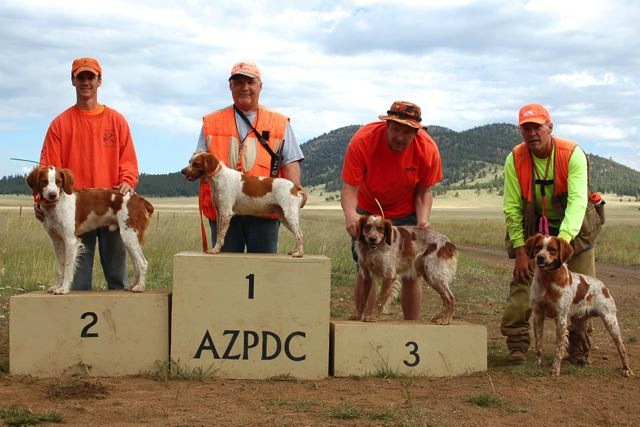 What's new at Sun Country Bretons?
Josie and Cory's puppies arrive on National Puppy Day!
(March 23, 2016) - Josie delivered four girls and two boys in record time on National Puppy Day. The first pup arrived just before noon and the last one at 1:30 p.m. For a first-time mom, Josie performed like a pro.
Josie earns another pass toward Master Hunter
(Feb. 14, 2016) - Josie earned her fourth pass toward her AKC Master Hunter title over the weekend. After an "off" day on Saturday, she performed beautifully on Sunday and earned high scores.
Josie earns two more passes toward Master Hunter
(Nov. 21 and Dec. 6, 2015) - Josie recently earned two more passes toward her AKC Master Hunter title over the last couple weeks. She earned high scores for her performances, but made a few mistakes during some of her runs. Still, she came home with two more ribbons and Passes toward her title. Not bad for a youngster!
Josie earns 1st pass toward Master Hunter
(August 16, 2015) - This weekend Josie earned a pass toward the AKC Master Hunter title. In her first run, she performed perfectly in pointing, steadiness, and retrieving, but failed to honor her running mate's point and didn't pass. On the second day, her training paid off and she earned high scores and a ribbon for her efforts. Congrats to Josie and Don!
Gypsy receives Reserve placement!
(Feb. 14, 2015) - Gypsy received the Reserve placement (2nd) for Best Female of Variety - Orange & White at the Club de l'Epagneul Breton National Specialty Show held in Chandlerville, Illinois. Cory received 2nd place in the adult male Orange & White class. Both dogs received "Excellent" conformation ratings from the French judge.
Cory, Gypsy and Josie also performed well in the National field trials Feb. 15 - 17, but were unable to locate birds during their runs. However, Josie passed her T.A.N. (test of natural ability). See photos of the events.
Gypsy Earns Master Hunter Title!
(Nov. 9, 2014) - Gypsy earned three passes this weekend to complete her AKC Master Hunter title. She scored 8's, 9's and 10's in most categories, but was a bit slow on the retrieve during her last run, due to a cut on her foot. Still, she was a trooper and followed through. We're very proud to add a fifth Master Hunter to our pack!
Gypsy Places 1st!
(Sept. 7, 2014) - Gypsy took first place in the "shooting dog" class at the Arizona Pointing Dog Club's Tournament of Champions held near Flagstaff this weekend. Dogs earn points at field trials during the year to qualify to run in the TOC. Two dogs from our kennel, Gunner and Harley took third and fourth places in the shooting class. Cory also ran in the TOC, but didn't make the final cut.
Josie Joins the Pack
(April 23, 2014) - We're proud to announce the newest member of the family ... Josephine des Qui Coule Hannahatchee. She comes from a long line of champions, both from the U.S. and France and promises to be a great addition to our pack. She's already won our hearts and is Gypsy's new best friend.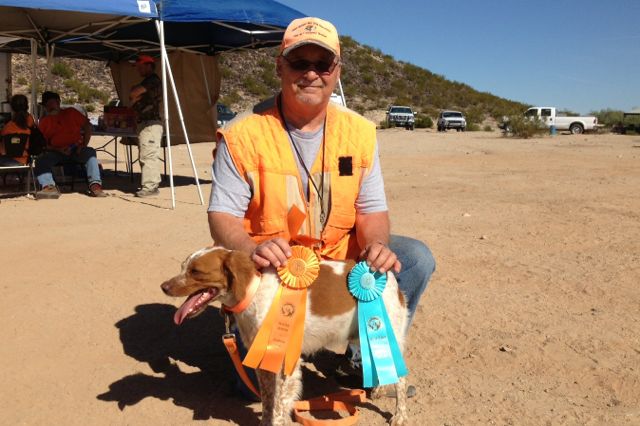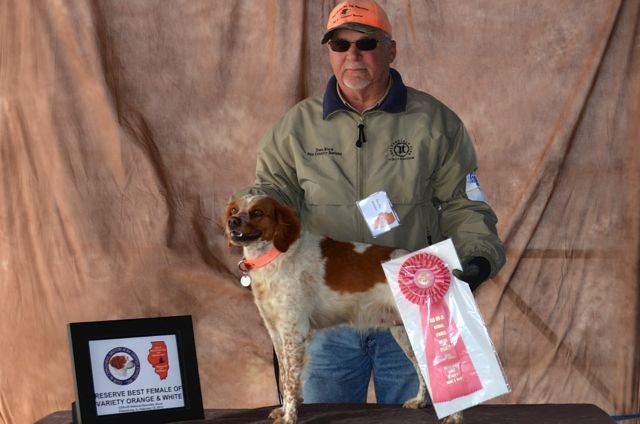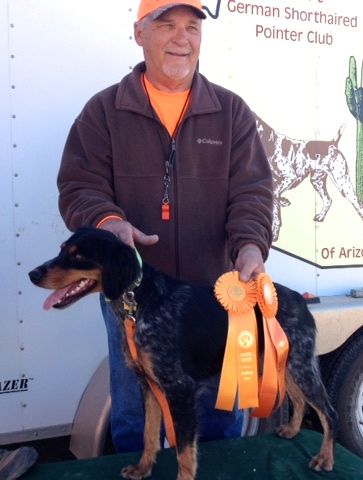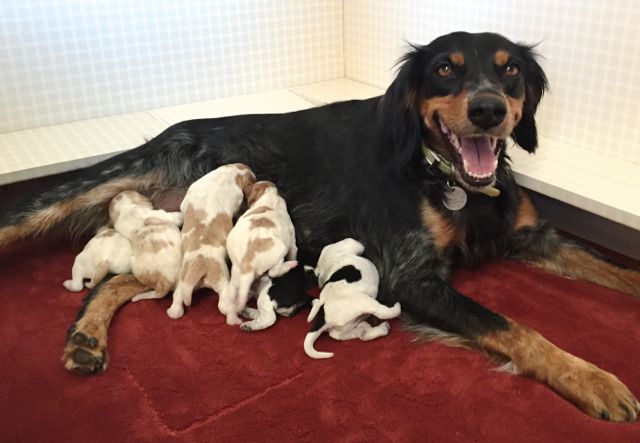 Titus des Plaines Dauxeenes passes at age thirteen
(May 25, 2016) - We are sad to announce that Titus des Plaines Dauxeenes passed away after struggling valiently with heart disease for several months. He will be dearly missed and fondly remembered for his sweet temperament and excellent hunting abilities. His legacy will live on in the many beautiful, talented dogs he sired over the years. Read more …